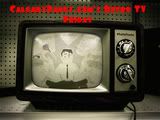 Another Friday, another Retro TV Themed post! Does anyone remember The Polka Dot Door? I can still sing the theme song word for word and I have not seen this show in over 25 years! ( Advertisers know that jingles work people!) This was another Canadian classic from the 1970's & 80's and I am not sure if it was shown in the USA?
The hosts would lead children in songs and stories, and interact with stuffed animal characters
Humpty, Dumpty, Marigold and Bear.
These characters
never spoke or moved
; the hosts would let the audience know what they were saying
(What's that Marigold? You like Banana's?)
. On certain theme days the hosts would invite the audience to peer through the Polka Dot Door to witness an educational video of some sort, showing, for instance, how crayons are made.
The fact that the puppets never spoke is kind of freaky to me now that you think about it. How do you know if the hosts were interpreting their thoughts accurately? What if we had it wrong all these years? Maybe its just me?...
The creepiest character ( and the most famous) was Polkaroo! He never said anything except "Polkaroo...Polkaroo..!!" while dancing around. He was also the hardest to see as he only appeared to the female host and was never seen by the male! Imagine the fun times watching as a kid when the male host asked the camera ( and you at home) " Do you see Polkaroo?"... when he is right behind him. He was as elusive as the Sasquatch or the Ogopogo! The man host then turned around to find Polkaroo gone into thin air! He would always say... "
Ahhhh, I must have missed him again
!" (This was repeated each and every show) . Hilarity Ensued!
This was another good educational show that I wish was back on re-runs.
Any memories of this classic?
Shane
PS: Be sure to enter my Label Daddy Disney Customized Zipper Tag Contest! It ends 4/18/10. The link is here:
http://www.calgarydaddy.com/2010/04/check-out-kyrons-one-of-kind-label.html