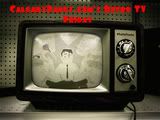 Happy Friday Everyone! I thought that I would do another Retro Friday TV Post and I will try to do one every week. If you missed my first one, the
link is here
.
Mr.Dressup was another Canadian classic that I loved as a kid. Mr.Dressup ( Ernie Coombs) was a wonderful entertainer and this show ran from 1967- 1996. Mr. Dressup would lead children through a series of songs, stories, arts, crafts and imagination games, with the help of his friends Casey and Finnegan, a child and a dog who lived in a tree house in the back yard. ( Finnegan the dog never spoke to my knowledge, lol.)

Here is a quick video of this genius show!
The best part of the show was when he pulled out the Tickle Trunk, where he would pull out a costume to dress up in. Every show was different and he often dressed up as a Postman, Police Officer, Fireman etc. What kid did not like playing pretend and dressing up as a cool character? Seeing an adult do it was just genius!

I had the chance to see Mr.Dressup swing through Calgary when I was attending Mount Royal College as a guest speaker. It was really strange to see someone that you idolized when you were 5 years old in person. Mr. Dressup really was the oldest kid in the world and I am glad to see this show is coming back on DVD. Unfortunately, Mr. Coombs died in 2001 but his work will be remembered by generations of Canadians.

Did anyone else watch this when they were young?

Shane


PS>> Feel free to grab my Retro Friday button ( on my blog) and play along next week with your own TV classics! Ill set up a Mcklinky next week! Happy Easter!