As the Winter Olympics are being held in Canada as we speak, I thought I would share some of the Canadian bloggy love! As I am a bit of a narcissist ( and suffer from blog delusions of grandeur) I have taken it upon myself to create a nice Canadian blog award.....The Gold Medal Mom Blogger Award!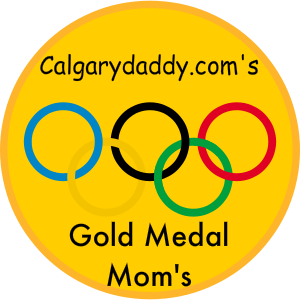 This award is given to those Mom Bloggers that deserve more than just a stinking silver or bronze. These mom blogs are the real deal. I have chosen five mom blogs that I think are worthy of this award! In no particular order:
1) Jen from
Three Little Monkeys:
Jen has an awesome blog and she always takes the time to comment on everyones site! Did I mention that by random fluke she lives in the same neighborhood as me, but we have never met!
2) Tamara at
The (Un)experienced Mom:
She was one of the first mom bloggers to add me to her site and really helped me along the way!
3) Shandal at
My Life in 3D
... What can I say...this cool Kansas mom is just way too kind to me and my blog. She has an awesome blog also!
4) Courtney at
Momma Donna Hey
: Another Kansas mom....awesome sense of humour and a great writer!
5) Lindsey @
Mommy Wonderland
: Lindsey is a great blogger. She writes with amazing honesty and is not afraid to call it like it is! Plus...she has cool tunes on her blog!
Ok... two more... ( I made up the award...so I can bend the rules!)
6) Sarah at
The Stroller Ballet
Sarah is a funny, funny lady! I just found out that she is a Canadian, living in the USA. I knew there was a reason why she was so nice!
7) Mary at
The Mommyologist
Funny Blogger, Great Comments and Super Cool Blog Design!
Ok folks...many more deserve this award, so be sure to do the following:
Please feel free to spread the love and pass this award onto some of YOUR FAVORITE BLOGS!
Naturally, the original award was given to my wife Becky, as she is the GOLD MEDAL MOM in my life!
Have a great weekend!
Shane